Help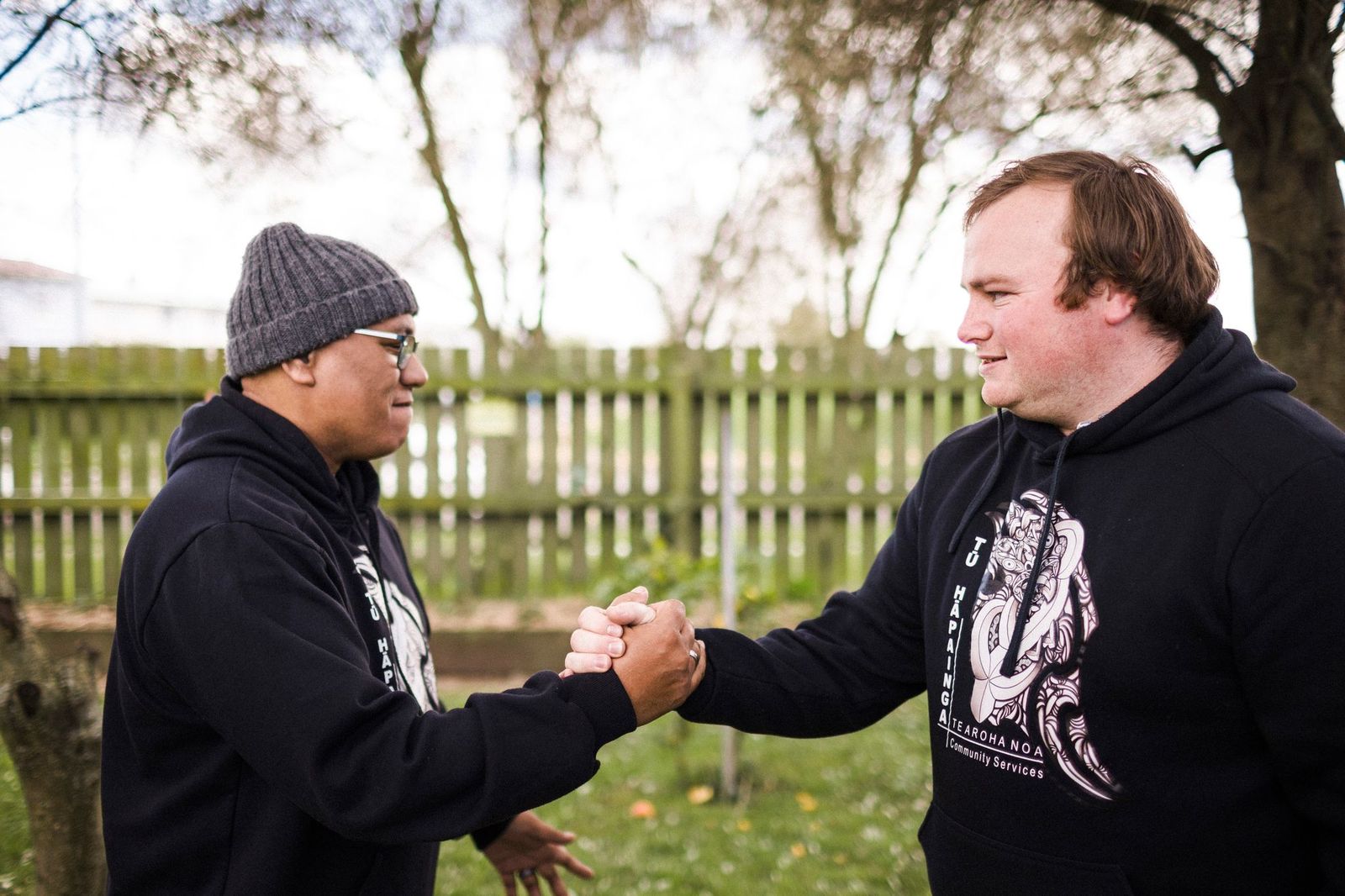 You're not any weaker for

accepting help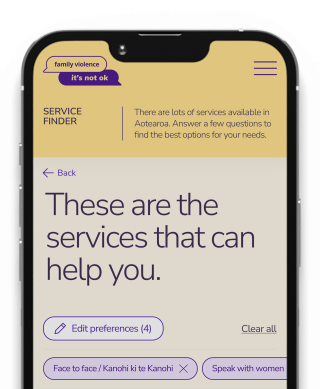 Need help but not sure where to find it?
Use the Service Finder tool below to find the right resources for you.
Frequently asked questions
Are you on a journey of change? These questions may help you
People who use violence may not realise they're doing harm, or want to change their behaviour but don't know how to. If we invest in helping them we could see some of the following benefits:

Through family/whānau-led change, the cycle of intergenerational trauma/violence could be broken, setting up a positive future for children/tamariki
They learn about how their behaviour is impacting their loved ones
They learn safe coping strategies
They find support with people who don't judge them, including others on a similar change journey
They start to become more aware of what makes them tick
They can work through their own past trauma
Other issues might be identified that contribute to their behaviour (such as alcohol and drugs) and they can find support.

Confidentiality means information that you are sharing with a person or group of people will not be shared further without your permission. When your safety or the safety of someone else may be at risk then information relevant to keeping someone safe could be shared without your permission.

A Family Group Conference (FGC) is a legal family/whānau meeting where the family/whānau and other support people make a plan to keep the children/tamariki safe. Sometimes the children/tamariki will still be living with their parent(s), and other times they may have been removed from their care. A FGC is run by a FGC Co-ordinator, and they speak with family/whānau about who else should attend the meeting, as well as the Oranga Tamariki (OT) social worker.


If everyone agrees on a plan for the children/tamariki, it gets monitored by the OT social worker and there might be another FGC in a few months to see how things are going.
If not everyone agrees on a plan or anyone doesn't believe the children/tamariki need care and protection, the FGC must end. After that the OT social worker must write a report for the Family Court about what the plan for the children/tamariki will be. The Family Court Judge decides about things like who the children/tamariki live with, the contact they have with their parents and other family/whānau, and what services and support they need.

Family Court deals with applications for care of children/tamariki, Protection Orders, and marriage separation. Court staff can tell you what to do, including which form you'll need, and explain court processes. They can't tell you what to say on your forms and they can't give you legal advice.
If you're on a low income, you may be able to get some legal advice and help for free through Family Legal Advice Service to help you understand:

your rights and responsibilities with your children/tamariki
your legal options for their care
what Family Justice services, including the Family Court, are available and how they can help.

You can get this help from the Family Legal Advice Service any time before going to court. The lawyer can also help you to fill out the court forms if you're applying for a Parenting Order or responding to an application for a Parenting Order.

Some services have social workers. Social workers support people and whānau with personal or social difficulties to reach their goals and build skills to manage challenges in the future.

When you get charged with a criminal offence, you're either served with a summons to appear in Court, or you appear in Court the same or next day. Before you appear in Court you should speak with a lawyer – the Court can provide a duty lawyer if you don't have your own.
You can be let go with no conditions (remanded at large), given bail (which has conditions that can include where you must live, people you can't associate with, places you can't go and things you can't do such as alcohol or drugs), or you'll be put in prison (remanded in custody) until your next Court date.

The next step is to enter a plea to either admit guilt or say you're not guilty. Guilty means you'll get a sentencing date set. Not guilty means you'll go to trial, but your lawyer may also negotiate the facts or charges. Before sentencing the Judge usually orders a pre-sentence report, which is completed by a Probation Officer. The report gives the Judge an overall picture of your life circumstances, as well as any mitigating factors (reasons why you may have done the offending), and the sentence options the Judge can choose from.

The Kaiārahi helps families/whānau with information, guidance, and support on their journey through the Family Court. They don't give legal advice. They can:

Help you understand what everything means
Access services in the community (with your consent)
Help to work through any challenges for you to participate in the Family Court.

You can speak with them by visiting the main counter at your local Court, calling 0800 COURTS (0800 268 787) or emailing kaiārahi@justice.govt.nz

What is a PSO?
A PSO is issued by the Police when they're worried a person is behaving in a way that puts someone else at risk of being harmed. Behaviour that Police could be concerned about includes verbal, physical, or emotional harm. The Police don't need consent from either person to issue a PSO.

What does it mean?
If someone is served a PSO, they must follow the rules of the PSO for the time it says (up to 10 days). This gives the person who is being protected by the PSO time to make decisions about what they want to do, and for both people to access support.
If someone is served a PSO they don't get a criminal conviction, but the details of the PSO are kept in police records.
The person served the PSO will need to stay somewhere else for the time of the PSO. If they don't have a place to stay, Police can help them find accommodation.

What can you do if you're served a PSO?
Use it as a time out - if the other person wants to have contact after the PSO has finished, that's when both people can talk about things respectfully.
Access support – Service Finder (link) can help them find services

What can't you do?
The person served the PSO can't contact the other person directly or indirectly - this means no texting, calling, emailing, letters, via social media or passing messages through other people.
They can't go near them or the land or building/s they occupy.
They can't harm them further - including assaulting, harassing, threatening, stalking, or intimidating them.
They can't see any children/tamariki they share for the time the PSO is in place, even if there are parenting orders that says they can have contact with the children/tamariki, as the PSO is considered more important.
They can't appeal a PSO.

What happens if you don't follow the conditions?
If the person served the PSO doesn't follow the conditions they can be arrested by Police and appear in Court for breaching the PSO. The Court can take the following actions:

release them with no further action
extend the current PSO (if the PSO has not expired)
issue a new PSO (if the PSO has expired)
consider whether a temporary protection order should be issued.

If they commit offences when breaching the PSO, charges will be filed in Court, and they'll speak with a lawyer about what happens next.

A Parenting Order is an order made by the Family Court, with details about who will have day to day care of a child, and who can have contact with a child (sometimes including specific dates and times).

In most cases, before applying for a Parenting Order, you need to try to resolve disputes about care of children/tamariki through the Family Dispute Resolution mediation process. This is when a mediator helps you and your ex-partner or those involved in the care of your children/tamariki to come to an agreement about care arrangements for them. A mediator will help you to share your viewpoints and focus on what's best for your children/tamariki. They don't decide for you. The process can be done over the phone and the mediators walk you through every step. They can stop or put the process on hold if you want them to. If the other parent doesn't want to or can't participate in mediation, you can get a certificate that says you tried to do mediation before applying to Court.

Another step that is usually needed before applying for a Parenting Order is completing the Parenting Through Separation course. It's a free course (4 hours total) that helps parents to figure out how to manage their children's/tamariki needs after separating. The separated parents should attend different courses, and they're available in a variety of sessions including daytime, evening, and weekends.

Family violence can be a range of behaviours that affect everyone in the family and wider whānau. It can take the form of physical, sexual, emotional or psychological abuse (including making threats, name-calling, controlling who you see, put downs, hitting, imposing and unwanted sexual contact). It can be a one-off situation or a pattern of abusive actions towards a family/whānau member that causes fear and harm. While it's normal to disagree and argue in a relationship, it's not ok to make your partner feel scared for their safety or intimidated into doing things they don't want to.

Diversion is operated by the Police and can be used to avoid getting a conviction, usually it's your first time before the Court. There will be a plan to complete that might include things like volunteer work, paying a donation to a charity, or completing a programme. You must still go to Court to monitor your progress on the plan, and once you've completed it your charge can be dismissed.

Here are some parenting courses that are available around Aotearoa/New Zealand:

If you google these courses along with your location you'll find the organisation in your area that delivers the programmes. There are lots of other local courses that may be suited to you as well, and some courses are available online if you're unable to get there in person.

People can attend a family violence programme if their behaviour has caused harm or fear for someone they care about. There are individual programmes, as well as group programmes and they can help people learn new skills to manage their behaviour and keep safe. Partners and children/tamariki can also attend programmes to learn about family violence too.

Some people think of these programmes as Anger Management programmes, but anger is just one of the things that these programmes help people with.

What is a Protection Order?
A Protection Order is made by a Family Court Judge (or in some cases a District Court Judge) to help protect the person who made the application (the applicant), any children/tamariki under 18 who regularly live with them, and anyone else named in the order, from a person they have made the application against (the respondent).

What does the Protection Order say?
Protection Orders have conditions that are standard for everyone, but they may also have conditions to deal with individual situations. Some of the conditions the respondent must follow are listed below:

1. Non-violence conditions
The respondent must not: physically, psychologically, or sexually abuse or threaten the applicant or their children/tamariki; damage or threaten to damage the applicant's property; encourage anyone else to physically, sexually, or psychologically abuse or threaten the applicant or their children/tamariki.

2. Programmes
In most cases, the respondent will be required to attend a Court-appointed 'stopping violence' programme to help them live without violence. These programmes are funded by the Ministry of Justice, so they don't need to pay. The Protection Order will have instructions on it about attending the programme. If they don't attend, they may have to go back to Court.

3. Firearms conditions
When the respondent is served with a Temporary Protection Order, they must hand in any firearms within 24 hours, or earlier if required by the Police. Their firearms licence will also be suspended. If they have access to firearms or weapons the Police, the Court or the applicant's lawyer must be told. If the Protection Order is made final their firearms licence will be taken away unless they can satisfy the Court that the applicant will be safe.

4. Non-contact conditions
The Protection Order will include non-contact conditions which must be followed. The applicant can choose to agree to contact but can change their mind at any time and the respondent needs to listen to their wishes. Standard non-contact conditions include that the respondent must not:

go to the applicant's home or onto their property
hang around their neighbourhood
try to stop the applicant, their children/tamariki or those close to the applicant from coming or going
phone, write, text, send letters, fax or in any way contact the applicant unless it is an emergency, there is written permission, or both the respondent and applicant are asked to attend a family group conference

How long is a Protection Order for?
When a Protection Order is made without notice, it is temporary and runs for three months.
If the respondent was served with a Protection Order and they don't attend Court or choose not to defend it, the Protection Order will automatically become final after the three months. This means it will become permanent, even if they're no longer in a relationship with the applicant.
If the respondent disagrees with the Protection Order and wants to defend it, a hearing date will be set by the Court and the applicant will be told about it. The Court will then consider both sides.
The applicant can choose to ask the Court to cancel the Protection Order, however the Court needs to be sure it is safe to cancel the Protection Order. The Court may not cancel the Protection Order if it still has concerns for the applicant's safety.

How do you decide what to do?
The law gives the respondent the option to disagree with the Protection Order application or to challenge any of the alleged facts or special conditions. The way to disagree with it depends on whether the respondent has received a Temporary Protection Order or an application on notice.
Whether the respondent accepts responsibility or disagrees with the allegations, it's important they clearly understand what a Protection Order means and what could happen as a result.
A lawyer (see below) who works in family law and the Family Court can help the respondent understand the Protection Order or application and work out what the next step should be.

All mothers and most fathers are automatically guardians of their children/tamariki at birth. If a couple breaks up, they'll still be guardians of their children/tamariki and should try to make decisions together about their children's/tamariki wellbeing.


A Guardian is an adult who's responsible for decisions about a child's wellbeing. This includes making decisions about their schools, healthcare, religion, culture, and language, and about where they live. The Family Court can make another adult a child's guardian. This person could be a grandparent, aunty, or family/whānau friend. A child can have more than one guardian.

There are different types of abuse in relationships. Sometimes we know what we're doing isn't ok and at other times we do these behaviours without understanding the impact on people we care about.

Coercion and threats
When someone uses force or threats to make someone do something or stop them from doing something, even if the person does not agree. They may also use threats of harm against someone or something the person cares about, which can leave them feeling trapped as they have less freedom, choice, or ability to make their own decisions.

Physical abuse
When someone uses physical force against another family/whānau member or causes injury in any way.

It may start with a shove or a grab but often gets worse over time. It can grow to be more harmful actions like hitting, kicking or strangling the person, who will feel scared and worried about being harmed again.

Sexual abuse
Any unwanted sexual act or activity, including harassment involving words, actions and pictures, unwanted comments or actions including rough sex, and sexual violence such as sexual assault and rape.

Without informed consent, or if someone is pressured or threatened into saying yes, any sexual activity is sexual abuse.

Intimidation
When someone does or says things to make another person feel afraid of them so that they'll do what the person wants. It can also be a stern look or other non-verbal behaviours or giving the 'silent treatment'.

Isolation
When someone stops the other person from having connecting relationships with their friends, family/whānau or their community. They might make most of the decisions in the relationship including how and where the other person lives, works or socialises, meaning they become more reliant on them as their only support.

Using children/tamariki
When someone uses their children/tamariki as a way of controlling someone, to get at them, or keep the other parent "in their place" or stop them from leaving the relationship. They might stop the other parent from doing what they think is best for the children/tamariki or use the children/tamariki to create conflict or to punish the other parent.

Economic or financial abuse
When someone controls or attempts to control a person's financial independence. This may be making a person financially dependent on them by maintaining control over financial resources or withholding access to money. This form of abuse limits a person's ability to make choices, access safety and they can experience more harm as a result.

Emotional abuse
When a person says or does something to make the other person feel scared, confused or doubt themself. There may not be physical violence, but abusive words and actions can also cause harm. In an emotionally abusive relationship, a person can be made to feel that there is no way out or that without their partner they'll have nothing. The ongoing impact of emotional abuse can chip away at a person's sense of who they are and what they're worth.

Privilege
Privilege is the advantage that people who fit into certain social groups have over other people in other social groups. Someone could use their privilege based on being male, of a particular ethnicity or culture (e.g. white privilege), being cis-gender (someone whose gender identity aligns with their birth sex), or being able-bodied. When a person uses the privilege they have in society against another person, this is a form of abuse. While people in advantaged groups can still face challenges in their lives, it is important to acknowledge that privilege exists.

Using internalised homophobia, biphobia or transphobia
When someone says or does things to make another person feel bad about or hide their gender/sexual identity. They may pressure someone into acting 'straight', over-sexualise them or say they don't belong in rainbow spaces.

Restorative Justice is a process where the person who caused harm meets with the victim and a person who makes sure the meeting is safe and appropriate. Restorative Justice can help the person who caused the harm to understand the impact of their actions, and they can offer something in return to make amends. The meeting can only happen if a Judge directs it before sentencing, and if both the victim and person who caused them harm agree to it. The person who runs the meeting gives a report to the Court about how the meeting went and what the outcome was.

Oranga Tamariki (OT) get involved when the Police or a member of the public reports that they're concerned about the care and/or protection of a child. The law says one or more of the following in section 14 of Oranga Tamariki Act 1989 must be met for there to be care and protection concerns:

The child is being, or likely being, harmed (physically, emotionally or sexually);
The child's parents or guardians are unwilling or unable to care for the child; or
The child's development, physical or mental or emotional well-being is or is likely to be impaired or neglected.

Different types of concerns will have different responses or plans from OT to keep children/tamariki safe.

You can seek legal advice from a family lawyer if you're unsure what your rights are.

Relationship counselling supports couples to learn to work out differences or communication difficulties. This type of counselling is usually suited to couples who aren't experiencing family violence.

Child support is money paid by parents who do not live with their children/tamariki, or who share care with someone else. This money is to help with the cost of raising a child.
If you receive a sole parent benefit, you will need to complete a child support application as part of your benefit application and Work and Income will collect any child support payable.
There are three different ways of setting up child support payments:

Formula assessment: If you're on a Sole Parent Support or receive an Unsupported Child's Benefit, you'll need to apply for the formula assessment
Voluntary agreement: Both parents decide the amount, register the agreement with Inland Revenue Department (IRD) and they manage the payments
Private agreement: Both parents decide the amount and manage the payments without IRD.
Immediate Support
If you or someone else are in danger, call
Or reach out to the Family Violence Information Line