Home

It takes courage to step up and seek change.
If you're concerned your behaviour is hurting or scaring loved ones, you can find information and support here to make positive changes for you and your whānau/family.
Start your journey today.
You show courage by being here

It takes courage to acknowledge our mistakes and be honest with ourselves. Courage is what keeps us moving forward when the path is unknown.

You can hope for a better future

We can't change our past but we can decide on our future. Hope leads us when we know where we want to be.

You can take ownership of your journey

We're responsible for our own thoughts, feelings, and actions. It all starts with "I".
Immediate Support
If you or someone else are in danger, call
Or reach out to the Family Violence Information Line
It's time for a change
The journey isn't a straight line, but we're here for you every step of the way
See the change journey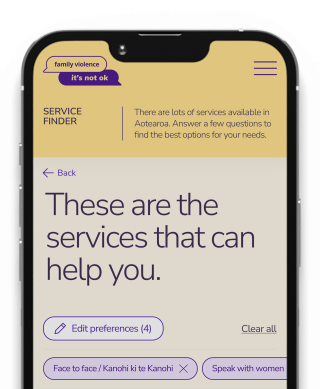 Need help but not sure where to find it?
Use the Service Finder tool below to find the right resources for you.